Al-Hadi Academy Achievements
"Success comes when preparation meets opportunity"
Cambridge O Level  Result  2019
SSC PART II Result JULY 2019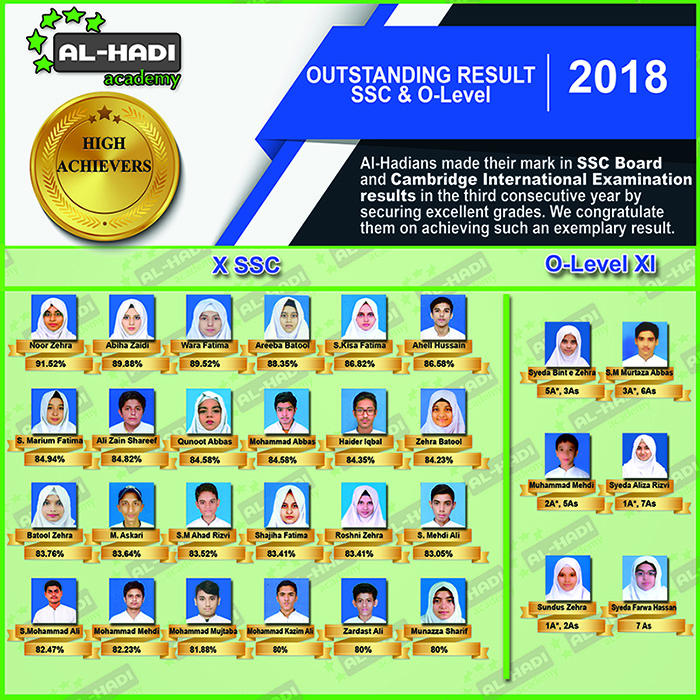 January 2018
1st Position in Inter-school Taekwondo Championship!
September 2017
The total 13 schools participated in the competition. Students of Al-Hadi Academy grabbed the trophy and securing position in 15th Annual Inter School Speech Competition Held at Ghulaman e Abbas School.
August 2017
 23rd December 2016 till 30th December 2016
EDVON'S Winter Camp Robotics Competition @ Habib University 
 2nd AL-HADI ACADEMY(Dua Batool and Marzia IX C)         
 3rd PAK TURK SCHOOL
Students of AL-HADI ACADEMY participated well and have performed beyond expectation as that was their first interaction with ROBOTS. 11/12 students work in teams and cleared round 1.
3/8 teams were from AL-HADI ACADEMY.
AL-HADI ACADEMY(Dua Batool and Marzia IX C) got 2nd Position in EDVON'S Winter Camp Robotics Competition.
The certificates were given to students and teachers and shield of honor was given to the Principal.
23rd Inter-School Taekwondo championship, Karachi.
Alhamdulillah by the grace of Almighty Allah and support of Ahlulbait a.s, Al-Hadi Academy like previous year this year also won 2nd Position among 30+ leading schools with 1000 students competing in 23rd Inter-School Taekwondo championship, Karachi.
Al-Hadi Academy secured 2nd Position with 98 Gold Medals, 45 Silver Medals,  24 Bronze Medals with total Medals grabbed 167.
2016
12th Dawn Education National Spelling Bee
Alhamdolillah, Alhadians team A (boys of class v & vi) won today's Spelling Bee competition and qualified for Regional round to be held on Wed Nov 2, 2016. Please keep on praying for their victory.
---
2016
International Kangaroo Science contest
International Kangaroo Science contest's result also has been announced today. One Alhadian Wara Fatima of Class II won a gold medal, while Batool Zehra of class I, Tatheer Zehra of class III, M. Aabis of class IV & S. Wajeeh Haider of class VIII won bronze medals
Congratulations to all winners, their parents and teachers. May Allah and Masoomeen(a.s) continue to shower their blessings upon our institution.
---

Alhamdolillah, by the grace of Almighty & fourteen Masoomeen (a.s.) Al-Hadi Academy has been blessed with another outstanding and spectacular result in CIE Examinations June 2016. 12 students appeared in three papers of class X. The overall result is 8 A*s, 15 As, 9 Bs, 3 Cs and 1 D This achievement is the outcome of combined efforts of students, parents and teachers.
Hope this commitment and zeal will be continued to attain excellence in future
---

 Alhamdolillah, by the grace of Almighty & waseela-e-masoomeen (a.s) we have been blessed with an outstanding result of our first batch of SSC. Out of 23 sts 10 got A-1 grade and the rest passed in A grade.  Syeda Zainab Zehra secured 90.23% marks and topped among Al-Hadians.  Heartiest congratulations to all teachers and students of Alhadi Academy especially to the class of 2016 who really worked hard and achieved this success.
---
1. Inter School Math Olympiad (ISMO)
Like last year, this year again Al-Hadi Academy participated in the 10th ISMO(Inter School Math Olympiad) was organized on 23rd November 2014 under the esteemed patronage of Pak Turk Schools and Colleges. The Inter School Math Olympiad is one of the few international fronts available for Pakistani students to display their skills and intellect in the subject of Mathematics. Alhamdulillah by the grace of Almighty Allah and due to the hard work and coordination of teachers and students we got the following positions:
In class V Mohammad Raza secured 1st, Position, while three other students won 7th, 8th and 14th Positions out of 406 contestants in Karachi.
Ali Raza.of Class VI won 10th Position out of 300 contestants, M. Hamza & Hijab Fatima of Class VII won 12th & 15th Positions out of 264 contestants.
Mohammad Shayan of class VIII won 2nd Position out of 214 contestants .
Competition was held on January 31st, 2015. In this event twenty five Clubs and more than 800 students participated. Our student Shabhi Hassan secured 3rd position with Yellow Belt.
---
2. Kangaroo Linguistic Contest ' Kangourou Sans Frontieres'-Pakistan
For the first time Al-Hadi Academy participated in the Kangaroo Linguistic contest held in December 2014, our teachers worked very hard to prepare more than sixty students from class III- VIII. These efforts resulted in the form of one Gold and two Bronze Medals and a cash prize for teachers. The winners are Masooma Waqar class III (Bronze) Saman Zehra of class IV (Gold) and M. Shayan Class VIII (Bronze).
3. International Dawn Spelling Bee Contest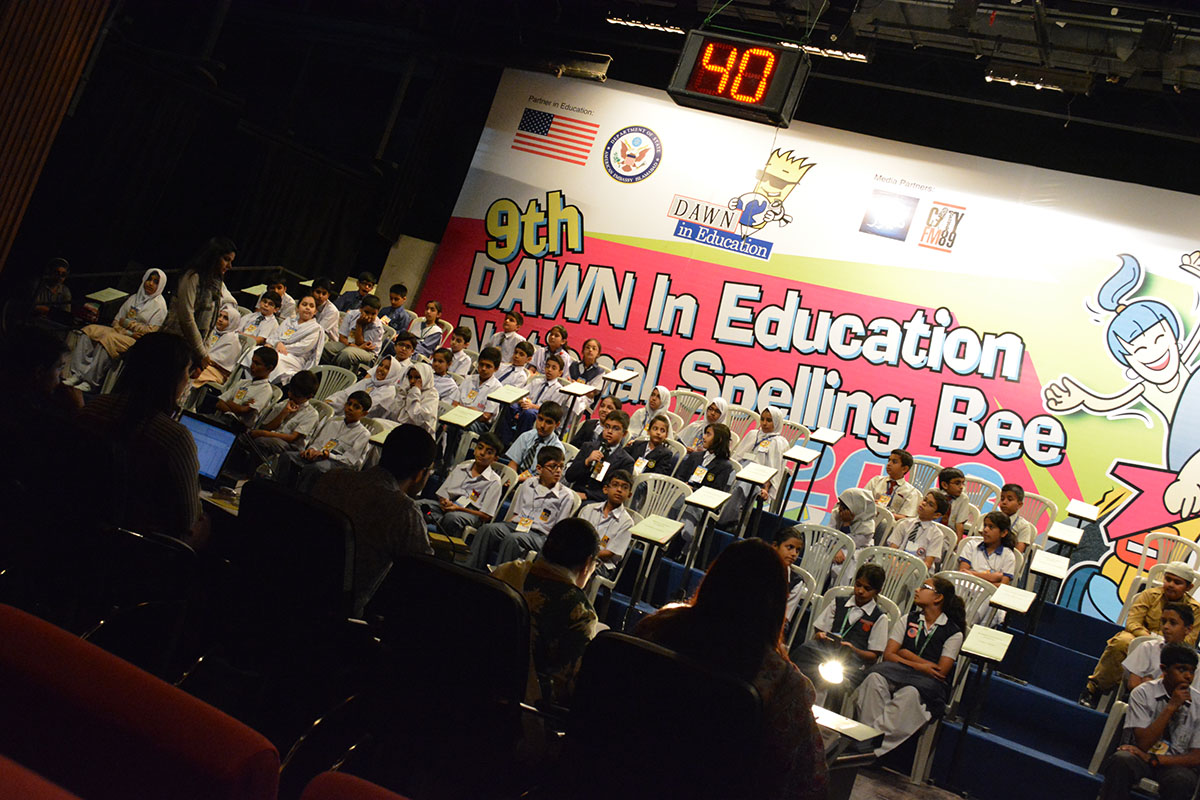 In the International Dawn Spelling Bee Contest the glowing energy of our students were marvelous since they learnt all the spelling with eagerness along with their midterm exams preparation that is obvious. Some of the contestants not only learnt their moiety of spelling but others' too on very short notice but their sincerity acted as catalyst to give their best on the venue. One of the group reached to the district round which is one of the big achievement on its own. Another group of 12-14 dragged the last round up to four ties that is proof of their strenuous efforts.
4. Inter School Quiz Competition
In October 2014, an Interschool Quiz Competition was held in Green Island School on the occasion of Eid-e-Ghadeer. Two teachers consisting of two students each participated after a tedious preparation. The vigorous learning of students was fruitful. Both the teams returned with loads of gifts including 1st position in junior group (class VI & VII) and 2nd position in senior group (class VIII& IX)
5. Speech and Art Competition: Wilayat e Ali is the major component of our faith. To highlight its importance two competitions were held in Madina tul Ilm School in October, 2014, where two students Abiha and Murtaza of class VIII participated and both won 1st prizes in Art and Speech contests respectively.
6. Inter-School Taekwondo championship 15th November 2014
Alhamdulillah by the grace of Almighty Allah and support of Ahlulbait a.s, Al-Hadi Academy won 3rd Position among 15 leading schools in Inter-School Taekwondo championship held at Sindh Sports complex, Karachi on Saturday 15th November 2014.
---
 National Spelling Championship in Pakistan in Jan-Feb 2013
For several years now, the Dawn Group has untied efforts with the US Embassy to explore newer fronts in forwarding their cause of literacy and education in the country. One such initiative is that of Spelling Bee, which celebrated the sixth anniversary in 2013, the program debuting for the first time in 2008. This year marked a  third year of participation of Al-Hadi Academy. This year also rewarded the school's hard work with a victory in 9-11 Boys Pool, the triumph coming after a year long hiatus. The school participated in two pools, 9-11 and 12-14, boys and girls competing separately.
---